News
Details
I take a step toward my users.
In application StmDfuUsb starting from release 1.06 you can use FREE coupon for additional firmware uploadings.
Coupon apply activity
You can get one coupon per day. A coupon give you 5 additional firmware uploadings.
Details
I think it must be applause here.
These days the level in 10000 installation for the application StLinkP has been overcame.
I thank everyone who help me in the development of this projects. Don't forget to rate the application on GooglePlay and leave feedbacks with any propositions or critics that can help in improving of the applictiation. Also good wishes form you are welcome also. It inspirate me on further work.
With love from Dnipro-river banks. Yaroslav Trymbach:)
Details
New release of the application StLinkP is published on GooglePlay.
New options "connect under reset" is added.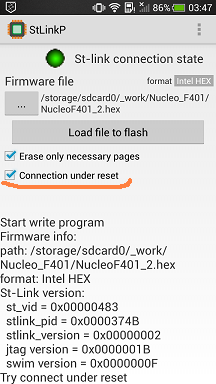 Main activity with new option
Some times debugger St-Lint can't connect to CPU while firmware is running.
It maybe by some reasons. For example firmware can use for some other purposes the pins which debugger use to connect to CPU.
Also fimware can switch microcontroller in some safe energy mode.
In such situations debugger can provoke reset of microcontroller and catch control over it before firmware is start.
In many situation the application StLink make this action automatically if it can't connect normally.
Now you can select option "Connection under reset" and the application will be try connect to microcontroller under reset at once.
Details
New release of the application StLinkP is published on GooglePlay.
The new feature is added. It is SWO monitor.
For opening the activity of SWO monitor you should select the applropriated point of main application menu.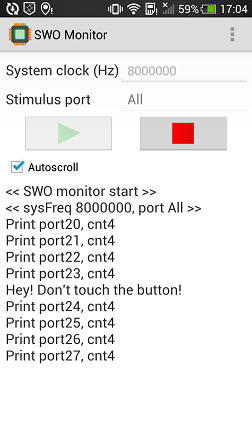 SWO monitor activity
Now if in your application is realized the sending of debug messages via serial wire output (SWO) then you can monitor it on the screen of you mobile device. Also you can easy to share the collected information with any person you need via communication channels of your phone.
Details
New version of StmDfuBlue is available on GooglePlay.
The application increase the possibility for communication. Now it can work with BLE bluetooth-to-serial modules which based on microcontroller cc254x.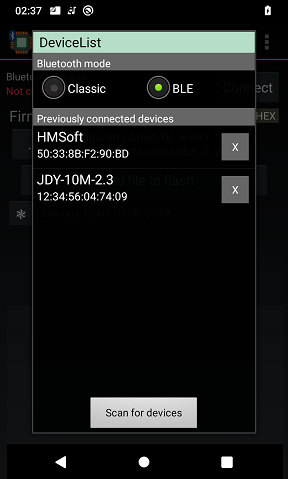 The switch for selecting bluetooth mode (classic or BLE) is added in select device dialog.
The list of paired devices is replaced with list previously connected devices. I think no needs to show in the dialog different friend's phones or fitness trackers. I also can clear this list and remove a device by click the button X right from device description.
The work of the application is checked with module HM-10