News
Details
New version of StmDfuBlue is available on GooglePlay.
The application increase the possibility for communication. Now it can work with BLE bluetooth-to-serial modules which based on microcontroller cc254x.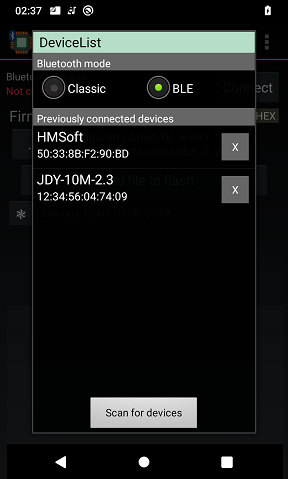 The switch for selecting bluetooth mode (classic or BLE) is added in select device dialog.
The list of paired devices is replaced with list previously connected devices. I think no needs to show in the dialog different friend's phones or fitness trackers. I also can clear this list and remove a device by click the button X right from device description.
The work of the application is checked with module HM-10
Details
Application StmDfuUsb has got its first mark. And ot once it is five stars! The user with illegible nick has left the feedback also. In this feedback he or she (why not?) asked me to add in application the possibility to leave dfu mode. I love my users especially those who leave feedbacks so I try to fulfill their whims.
In new release 1.03 the button "Leave DFU mode" is added.
I hope that another fans of this button will be found soon.
So welcome. Press new button and will by happy)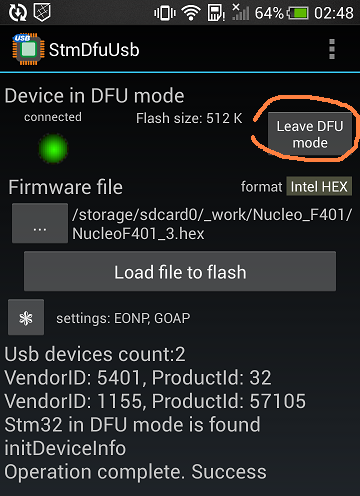 Details
It is pleasurable news for me. The achevement was got.
Application StLinkp was installed 5000 times from Google Play. And it is hold high enough estimation at 4.8 stars.
According to Android Developer Console the StLinkP now installed on 1500 active devices all around the world.
Leaders among countries by active installation is Russia, USA, India, Indonesia, South Korea.
I hope that my application also will be usefull for people in the future. And I shall continue to make improvement.
Details
The family applictions for loading firmware of Stm32 is upgraded.
Support of Motorola S-Record file format is added for next application
StLinkP version 0.39
StmDfuUsb version 1.02
StmDfuBlue version 1.12
Details
Our family of android application for loading firmware on Stm32 has enlargement. New application StmDfuUsb is published on GooglePlay. It use embedded bootloader of Stm32 for loading firmware via USB. All you need for working is just your smarphone coonected with cpu board via USB-OTG cable.