News
Details
It is pleasurable news for me. The achevement was got.
Application StLinkp was installed 5000 times from Google Play. And it is hold high enough estimation at 4.8 stars.
According to Android Developer Console the StLinkP now installed on 1500 active devices all around the world.
Leaders among countries by active installation is Russia, USA, India, Indonesia, South Korea.
I hope that my application also will be usefull for people in the future. And I shall continue to make improvement.
Details
The family applictions for loading firmware of Stm32 is upgraded.
Support of Motorola S-Record file format is added for next application
StLinkP version 0.39
StmDfuUsb version 1.02
StmDfuBlue version 1.12
Details
Our family of android application for loading firmware on Stm32 has enlargement. New application StmDfuUsb is published on GooglePlay. It use embedded bootloader of Stm32 for loading firmware via USB. All you need for working is just your smarphone coonected with cpu board via USB-OTG cable.
Details
Good news for whom wait for supporting of raw binary files from StLinkP.
Starting from release 0.35 you can keep your firmware in raw binary files and upload it on Stm32 CPU without converting its to Intel HEX format.
If you want select firmware in binary format then you need select desired file format at right bottom corner of OpenFileDialog activity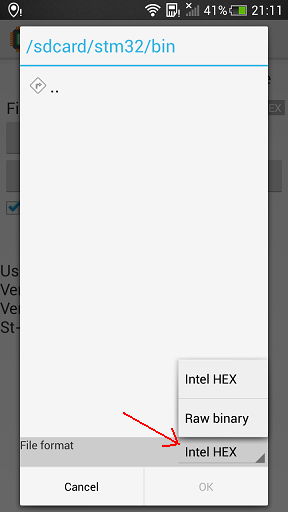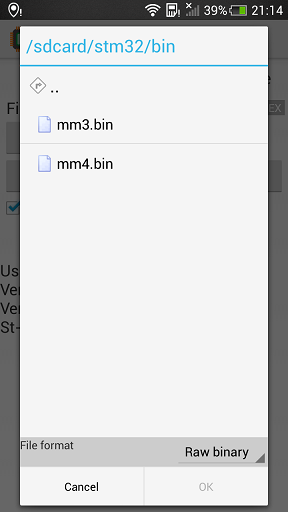 On main activity you can see label that show format of current selected file.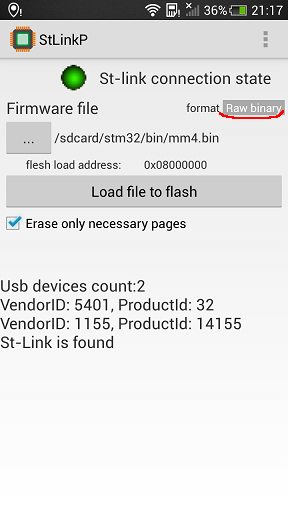 This update has been inspired by feedback from nurdin tegar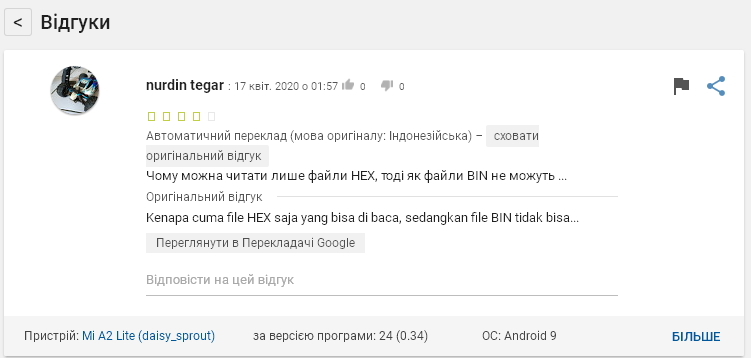 Please leave your feedback. We can make StLinkP better together)
Details
New version of StLinkP application was published on GooglePlay
Release 0.34
Supporting of Stm32G0 series is completed by option bytes programming.